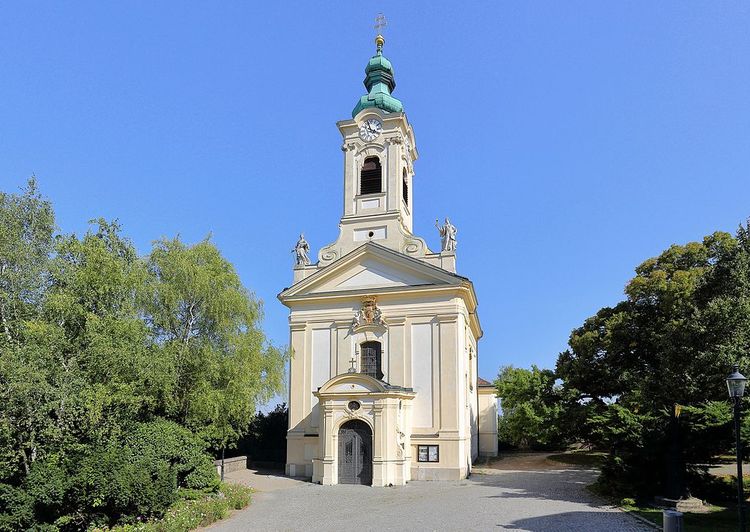 Mountain Church Rodaun
Location
In front of the church, is the quiet and picturesque church square for an undisturbed get-together in the countryside. Since the church is on a slight hill, there is a fantastic view from the church square.
History
In 1683, the former Rodaun's Church was destroyed during the second Turquish siege of Vienna and soon afterwards rebuilt in a modest form. In its place, today's Mountain Church was built between 1739 and 1745 and consecrated on 23rd June 1745. The founder of the church was the former owner of the Rodaun estate, Eleonore von Sauberskirchen, widowed Rödderstahl. Through the foundation she fulfilled a will of her mother.
Architecture
The church is the work of the Viennese master builder Johann Enzenhofer. The baroque central building in the immediate vicinity of Rodaun's Castle has a 35 metres high, church tower. In 1783, Rodaun became an independent parish in the course of the Josephine reforms - so far Rodaun had been administered by the parish in Perchtoldsdorf to the south. In 1905, the porch was built according to a design by architect Richard Merz and the tower facade and tower structure were changed.
Artistic arrangement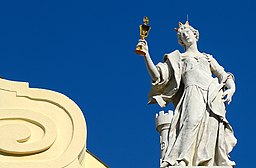 The coat of arms cartouche above the porch shows the coat-of-arms of the lord of the castle, Philipp Ritter von Rödderstahl († 1736). The two large stone figures on the roof next to the tower set represent Saint Catherine and Saint Barbara (picture).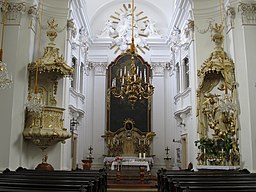 The baroque furnishings have largely been preserved. The picture on the high altar depicting the baptism of Jesus and the two side altar pictures with the Holy Family and Joachim, Anne und Mary were created by the South Tyrolean painter Michelangelo Unterberger.
Organ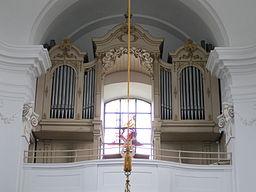 The organ with its neo-baroque case was built in 1905/06 by the organ builder Johann M. Kauffmann from Vienna. The cone store instrument has twelve stops on two manuals and pedals. The game actions are mechanical, the stop actions pneumatic.
Organisational matters
Opposite the church is the rectory, whose parish hall and garden can in principle also be rented for ceremonial purposes. In principle, there is also a parish coffee every third Sunday after Holy Mass, and all visitors are warmly welcome. The interior of the church resonates with holiness, exquisiteness and intimacy and was also recently completely renovated. This exclusive ensemble is an insider tip for church celebrations of all kinds! The Mountain Church Rodaun is, so to speak, the  beginning and end of Vienna's City Hiking Trail 6, impressions and suggestions: https://www.1000things.at/info/stadtwanderweg-6/. Further information regarding getting in contact, service times, etc.: https://www.bergkirche-rodaun.at/