Schottenkirche
The monastery was founded in 1155 by Duke Heinrich II Jasomirgott of Babenberg. The first church was built shortly after. Multiple renovations and new buildings were executed during the Romanesque and Gothic periods. In the "Romanesque Chapel" and in the "Dark Sacristy", the last remains of the Romanesque church, consecrated in 1200, can still be seen today.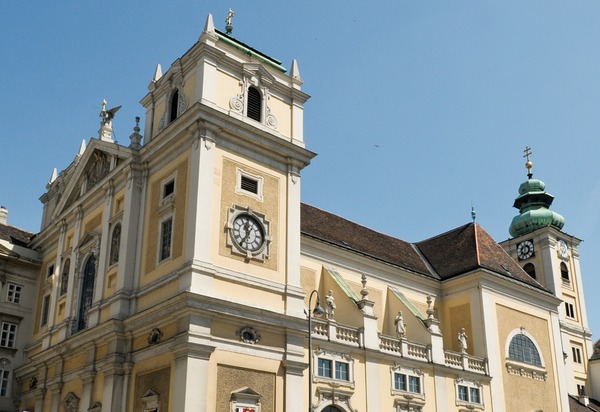 The Madonna (from around 1250), which is honoured a lot by the Vienna population, is the oldest representation of the Virgin Mary in the city; is also a reminder of the beginnings of the monastery. From the end of the 15th century, the then Gothic-style church was probably also home to the Scottish master's altar; painted around 1469 to 1472, the winged altar is one of the main Gothic, Austrian artworks. The altar is now visible in the monastery's museum.
The church of today goes back to the middle of the 17th century: Due to earthquakes, blasts, and signs of ageing, Schottenkirche became dilapidated to such a great extent that a new one was built (1638). Famous architects Andrea Allio, Andrea Allio Jr. and Antonio Carlone were commissioned for the job. By partly incorporating the old Romanesque walls, they created a barrel-vaulted wall and pillar basilica in the early Italian baroque style.
The important painters Tobias Pock and Joachim Sandrart were entrusted with the interior decoration. Schottenkirche underwent a thorough renovation and overhaul in 1883 by Heinrich Ferstel and Max Haas: The Baroque altars were replaced by early Italian Renaissance styled ones, whilst the altarpieces were largely preserved. Only the old high altar painting (the "Heavenly Glory" by Joachim Sandrart) was removed from the church and is now placed in the prelate hall of the Schottenstift. A glass mosaic was put in its place instead. The glass mosaic depicts the Madonna and baby Jesus with the founders of the monastery standing in front of her: Duke Heinrich Jasomirgott (as the religious father), St. Benedict, Pope Gregory the Great and St. James.
The last redesign took place in the year 1992 to 1994. Liturgical considerations led to a new arrangement of the chancel, which forms the centre of the monastic liturgy as well as the entire liturgical life of the community. The newly designed lecture cross is reminiscent of the Irish roots of the monastery.