Bl. Sr. Restituta Kafka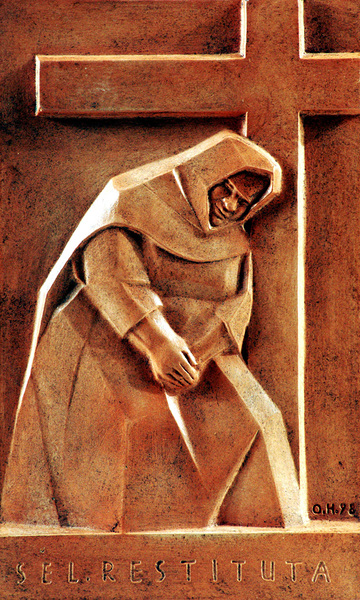 Helene Kafka, born 1st May 1894 in Moravian Husovice near Brno, was to become the first Austrian Martyr. She came to Vienna with her family at the age of two and initially worked as an assistant nurse in the Lainz hospital. At the age of 19, she entered the order of the Franciscan Sisters of Christian Charity, where she received the name 'Maria Restituta'. After World War I, she served as a nurse to the Mödling Hospital and soon rose to the position of Senior Nurse.

The Mödling Hospital wasn't untroubled by the Anschluss of 1938. Sister Restituta refused to remove crucifixes from the sickrooms. This incident together with aspects of her dissident writings would lead to her doom. She was arrested on 18th February 1942, directly from the operation room by the Gestapo and on 29th October 1942 sentenced to die, because of "enemy favour and plotting high treason". Father John Ivanek celebrated with her on her execution day - 30th March 1943 - in her cell the last "renewal of her religious vows" and accompanied her subsequently to the guillotine. Despite the request of the Church, the corpse wasn't handed over to the order. Restituta was hastily buried anonymously, with another 2.700 persons, in the so-called '40's-group' of Vienna's Central Cemetery.
1998 Beatification by John Paul II
On 21st June 1998, she was beatified on the occasion of a visit by Pope John Paul II to Vienna. Her liturgical feast Day is 29th October.

In Barbara's Chapel of St. Stephen's Cathedral in Vienna, a bronze relief by Viennese sculptor Alfred Hrdlicka calls to mind, since 1999, the martyr. In Mödling, the western half of Weyprechtgasse in front of the hospital, was renamed Schwester-Maria-Restituta-Gasse in memory of her. In the year 2000 in Vienna-Brigittenau, the district of her childhood and youth, at the Donaubrücke, close to the U6-station Handelskai, a square was named Maria-Restituta-Platz in honour of the martyr. In 2006, the Cologne artist Gunter Demnig laid a stumbling block (memorial stone) in Mödling, in Sr.-Maria-Restituta-Gasse 12.

In the Franciscan Generalate in Vienna-Margareten, Hartmanngasse 7-11, there is, since 2016, a permanent exhibition 'Restituta-Documentation Faith against NS-Violence'. But additionally in the Abbey Church, Klein-Mariazell, there are exhibits about her life.

'Sister Restl' became also a role model for her fellow prisoners, as her biography reveals. She helped and shared with everyone 'regardless of nationality and worldview', as a communist friend confirmed. In desolate surroundings, she spread trust in God: 'Everything will be fine; evil cannot prevail'.